The Shelby GT500™ was designed to smoke the competition. Under the hood is the most powerful production V8 engine in the world: a supercharged intercooled 5.8-liter 32-valve V8 engine delivering 662 horsepower* and 631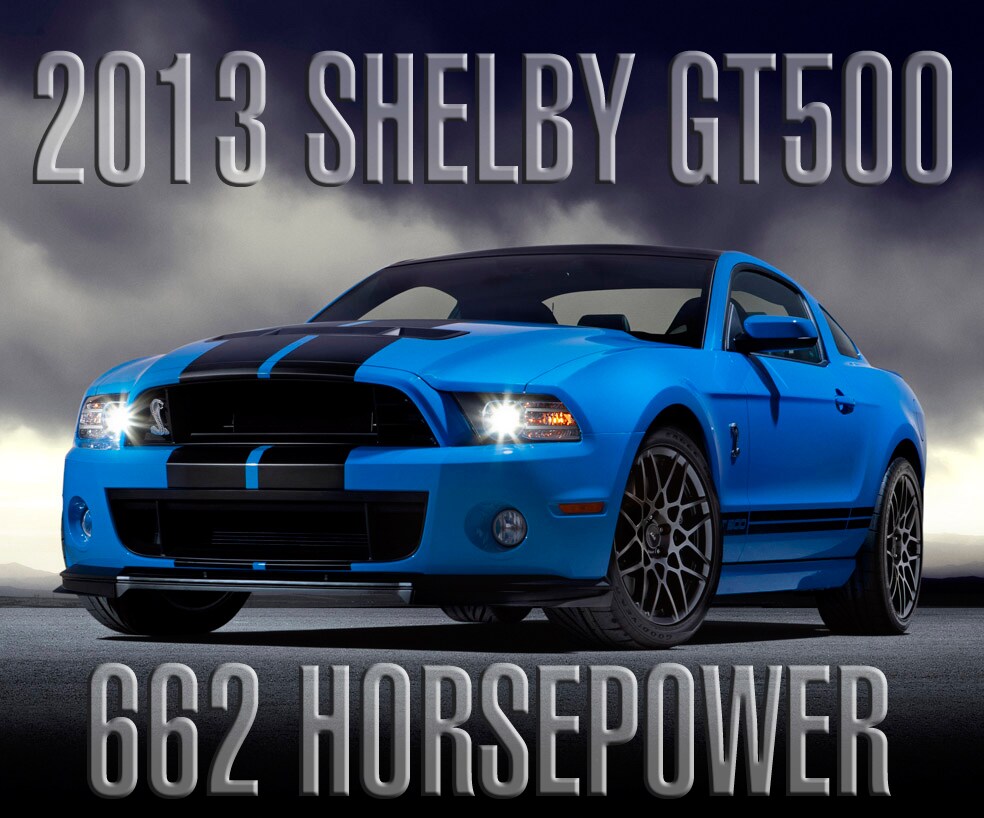 lb.-ft. of torque. The engine is mated to a TREMEC® 6-speed manual transmission with an enhanced 3.31:1 final drive ratio. 14-inch Brembo vented rotors with Brembo six-piston calipers in the front and 11.8-inch vented rotors with a single-piston caliper in the rear. Four different settings of the Traction Control System, from performance-based settings for the track to street driving. And when equipped with the Performance Package, you can adjust the SVT-designed Bilstein electronic adjustable dampers from the cockpit ? normal mode or sport mode for track driving. Other features include downforce-generating front grilles, an aggressive splitter, new quad exhaust tips and new 19-inch (f) and 20-inch (r) premium painted forged aluminum wheels. One piece Carbon Fiber drive shaft with 200 mph + capability.
SVT PERFORMANCE PACKAGE
TORSEN® 3.31:1 limited-slip rear axle differential
19" x 9.5" (F) and 20" x 9.5" 'Tarnish' painted forged-aluminum wheels
P265/40-19(F) P285/35-20(R) tires
Bilstein™ electronically adjustable dampers
SVT tuned front and rear suspension; unique front & rear springs; larger front & rear stabilizer bars
Spoiler with Gurney flap and a unique gear shift knob

SVT TRACK PACKAGE:
External engine oil-to-air cooler
Transmission cooler with integrated mechanical pump
Differential cooler with electric pump
4.2" LCD message center with Track Apps

At 662 HP, 2013 Ford Shelby GT500 Certified As World's Most Powerful V8! Segment-Leading Fuel Efficiency
The 5.8-liter supercharged V8 in the 2013 Ford Shelby GT500 is SAE certified at 662 horsepower and 631 lb.-ft. of torque
The world's most powerful production V8 is backed up by chassis, aerodynamic and braking performance that makes the GT500 an outstanding all-around sports car
Even with 112 horsepower more than the 2012 GT500, fuel economy is increased by 1 mpg both city and highway, 5 mpg better than Chevrolet Camaro ZL1

The all-new supercharged 5.8-liter powerplant in the 2013 Ford Shelby GT500 has been officially SAE-certified as the most powerful series production V8 in the world with peak output of 662 horsepower and 631 lb.-ft. of torque. That's more power and torque than low volume sports cars costing tens or hundreds of thousands of dollars more than the GT500, which is the most fuel-efficient vehicle in its segment.
In fact the 2013 GT500 is the most fuel-efficient car with over 550 horsepower in any segment available in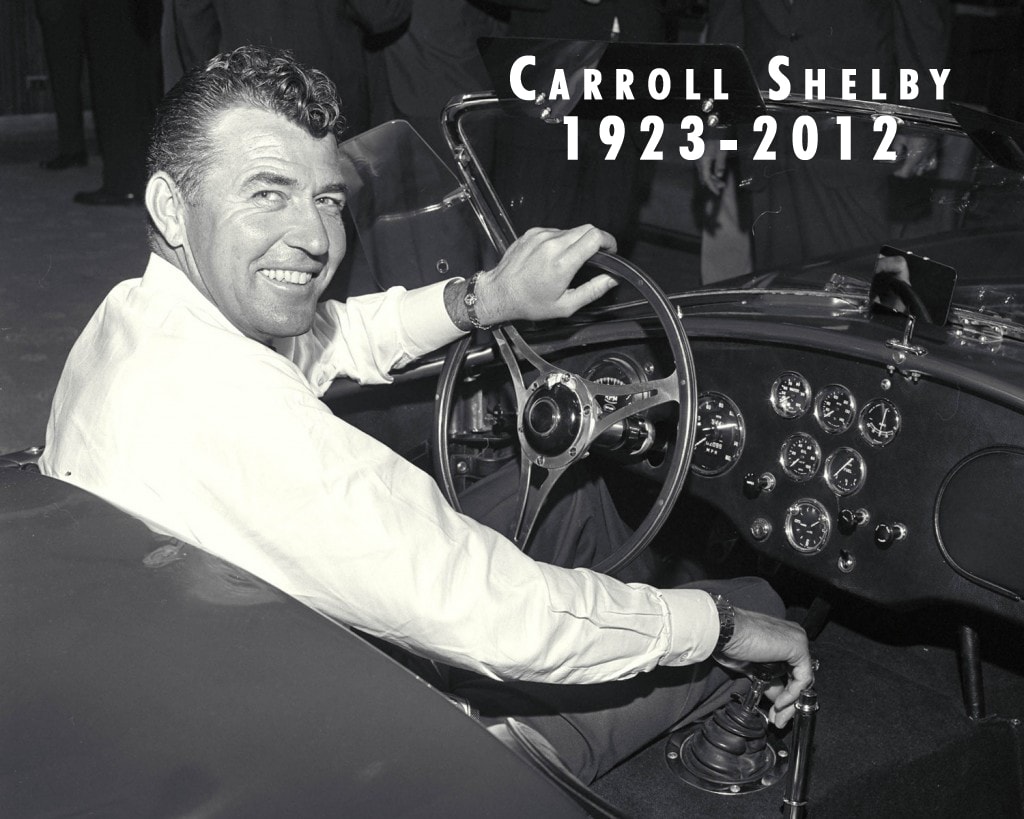 America. Unlike high-strung engines found in much more expensive exotic supercars, the GT500 engine generates its massive thrust throughout its operating range with 395 lb.-ft. of torque available just off idle at 1,000 rpm. More than 90 percent of the peak torque is available from 2,200 to 5,800 rpm so that no matter when you squeeze the go pedal, the GT500 will just get up and run.
The combination of the new TVS 2.3-liter supercharger, twin overhead camshafts and four valves per cylinder ensures this stallion can breathe all the way to 7,000 rpm with the peak power production coming at 6,500 rpm and holding fairly steady right to the rev limit.
"Our goal is to create outstanding all-around performance cars, not just stoplight-to-stoplight sprinters," said Jamal Hameedi, SVT chief engineer. "We've backed up this amazing powerplant with a more refined chassis tuning that helps keep the rubber on the pavement without punishing the driver's spine and six-pot Brembo brakes that dissipate speed with ease stop after stop."
The broad, flat torque curve of the GT500 engine makes it tractable and easy to drive whether trolling along in traffic or powering out of a turn on a twisting country road. With more than enough grunt to push the coupe to 200 mph and beyond, the chassis has been tuned to absorb the road imperfections that can cause instability at high speeds. The revised front fascia and splitter help manage the flow of air around and under the GT500 so that it offers 33 percent more effective aero loading at 160 mph compared to the 2011 model and feels more firmly planted.
"The engineers at Ford SVT focused on the fundamentals first with solid mechanical grip and strong brakes," added Hameedi. "On top of that platform they added advanced driver-adjustable electronic assist features including launch control, Bilstein adjustable damping, AdvanceTrac stability control and electric power-assisted steering."
Even with the most powerful production V8 in the world, the 2013 Shelby GT500 improves on the fuel efficiency of the 2012 model with an EPA-estimated 15 mpg city, 24 mpg highway and 18 mpg combined with no gas guzzler tax. That's 5 mpg better on the highway than the 2012 Chevrolet Camaro ZL1 even with an extra 82 horsepower and 75 lb.-ft. being generated under the hood. With the 2013 GT500 world-class performance no longer has to mean a world-class thirst for fuel.
The 2013 Ford Shelby GT500 will be built at AutoAlliance International Plant in Flat Rock, Mich.