Are You Looking to Buy a Stage 1 Roush Mustang?

Making the most of your time spent on the roads of Clinton IL requires having access to a vehicle with power, style, and grace. Fortunately, the Stage 1 Mustang from Roush and Ford is primed and ready to deliver on all of these fronts. In fact, given the impressive specs and design sported by this car, it is safe to say that few, if any, of the Stage 1 Roush Mustang's competitors even come close to standing as peers of this class-leading offering.
Obviously, this is quite a bold claim to make. However, after spending a few minutes going over the various aspects of the Stage 1 Roush Mustang here, or by calling the Anderson Ford team at (888) 715-6476, odds are you will soon see exactly why more and more gearheads and sports car aficionados are turning to our performance auto team to learn more about this breathtaking example of true automotive ingenuity.
Where Power and Performance Come Together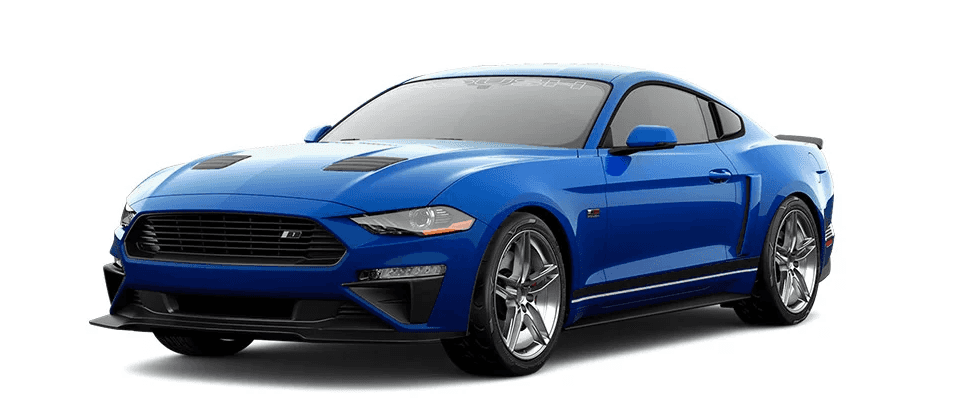 If you are like most prospective Stage 1 Roush Mustang owners, you want to know exactly what is going on under the hood of this high-end sports car. Fortunately, a quick peek at the core of this Mustang variant is sure to get your blood pumping and the adrenaline flowing.
To start, the Stage 1 Roush Mustang utilizes the Ford EcoBoost Mustang platform as its powertrain base, so you can take comfort in the fact that this car is fundamentally designed to truly maximize performance. From here, a 2.3-liter (L) turbocharged engine pumps out an outstanding 310 horsepower (hp) and 320 pound-feet (lb.-ft.) of torque, amounts that are sure to turn the head of even the most discerning Mustang fans.
While the raw power generated by this setup definitely speaks for itself, the fact of the matter is the Roush performance experience does not end there. In fact, the following core component upgrades also help to enhance your time spent behind the wheel of this race-inspired car and ensure you always maximize performance on the streets of Clinton:
• RS1 Strut Tower Brace
• High-Flow Upper Grille with "1" Badge
• High-Flow Lower Opening
• Roush Dual-Tip Performance Exhaust System
• Front Chin Splitter
• Front Fascia with Aero Pockets
Thanks to this plethora of outstanding Roush core components, performance is never in short supply with the Stage 1 Roush Mustang here at Anderson Ford.
Going the Extra Mile with Alluring Style and Grace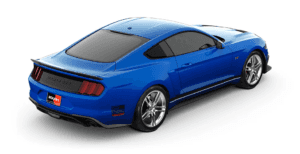 While owning a Stage 1 Roush Mustang is often a decision predicated on putting the pedal to the metal, the truth of the matter is that Ford and Roush did not just design this sports car to perform well; it offers up plenty of aesthetic appeal, too.
On the outside, the Stage 1 Roush Mustang sports some seriously aggressive style selections, including the Roush front-windshield banner, a rear blackout panel with Roush badging, Roush fender badges, side body and hood scoops, and even trademark RS1 logos and striping that let everyone else on the streets of Clinton know your Mustang is primed and ready to take on all competitors.
This stylistic approach continues on the inside of the car via a wide array of outstanding inclusions. From the iconic Mustang logo emblazoned on the steering wheel and plush leather seats to the official Roush instrument gauge cluster and embroidered floors mats and illuminated door sill plates, the message remains on point: Owning a Stage 1 Roush Mustang is both a performance and style choice for discerning car buyers in Clinton.
Completing the Roush Experience with Optional Components and Upgrades
One of the most exciting facets of owning a Stage 1 Roush Mustang of your own comes in the form of seemingly limitless customization. This means if you are a car owner who simply cannot stand "stock" anything and would like to tweak and upgrade your Mustang to fit your unique desires, Roush, Ford, and Anderson Ford have you covered. In total, the following optional components and upgrades are available to those who turn to the Stage 1 Roush Mustang for their performance automotive needs:
• Roush TrakPak Three-Way Roush Coilover Suspension (adjustable height)
• Billet Performance Pedals (manual and automatic transmissions)
• Quad-Tip Exhaust with Rear Valance
• Quad-Tip Exhaust with Roush Active Technology and Rear Valance
• Reverse-Sensing Custom-Fit to Rear Valance
• Convertible Style Bar
• Hood Graphic
• Low-Gloss Black Rear Decklid Spoiler (available exclusively on Mustangs with Matte Black side and hood graphics)
• Black (only available on Fastback models)
• 20-inch (in.) Quicksilver Wheels with Ultra High Performance Cooper RS3 Series Tires
• 20-in. Polished Wheels with Ultra High Performance Cooper RS3 Series Tires
• Performance One-Way Roush Coilover Suspension (adjustable height)
• Locking Lug Nuts
• Roush Leather Seating
• Roush Leather RECARO Seating
• Six-Speed Shifter Ball
• Roush Trunk-Mounted Tool Kit
• Hood Strut Lift Kit
• Quarter Window Scoops
• Roush RS1 Side Graphic
As you can see, the sky is the limit when it comes to setting up your Stage 1 Roush Mustang from Anderson Ford exactly how you want it.
Getting You Behind the Wheel of Your Dream Roush Mustang Today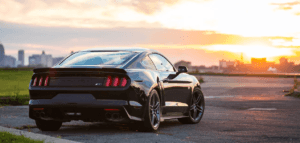 Now that you have become a little bit better acquainted with the Stage 1 Roush Mustang, the next step on your journey toward owning the sports car of your dreams is to meet it in person. Fortunately, Anderson Ford is more than capable of helping you out on this front via an inviting staff of Roush performance specialists and the ability to test drive the Roush Mustang that stands out to you on our showroom floor.
With this in mind, go ahead and drop by the next time you are in our neck of the woods and have a few moments of your day to spare. As the leading name in Roush Mustangs in Clinton and its surrounding areas, you can count on us to help you dig into everything you need to know about the Stage 1 Roush Mustang, as well as any other performance Mustangs that pique your interest.