Get a Free Bible from Anderson Ford in Clinton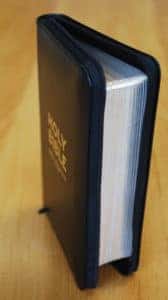 If you would like to have a personal pocket copy of the New Testament, please stop by the dealership, or CLICK HERE and email us your name and address.
We will be happy to drop one in the mail to you ABSOLUTELY FREE!
Due to the overwhelming requests, please allow a minimum of 7 to 10 business days for delivery. We are not able to ship outside the United States at this time.
Thank you to everyone who requested!
No purchase necessary. One per family please. Even if you do not request a Bible, please drop us a note and let us know you were here.