SVT and Carroll Shelby's GT500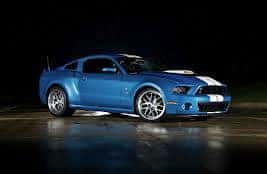 The most powerful factory-built Ford Mustang in history takes to the street next year, following a unique collaboration between performance car legend Carroll Shelby and the Ford Special Vehicle Team (SVT). Ford took the wraps off the 450-plus-horsepower Ford Shelby Cobra GT500 show car at the New York International Auto Show March 23. Designed in the unmistakable image of Shelby Mustangs of the 1960s, the Shelby Cobra GT500 combines SVT's modern engineering with the big-block performance that made the original GT500 a legend.
"The all-new 2005 Ford Mustang is one of the hottest cars in many years," says Phil Martens, Ford group vice president, Product Creation. "It was engineered from the beginning to be the basis of a high-performance, world-class sports car from SVT, and the Shelby Cobra GT500 is it."A production version of the GT500 went on sale in 2006, continuing the high-performance lineage of the SVT Mustang Cobra model line.