SVT Mustang Performance Tradition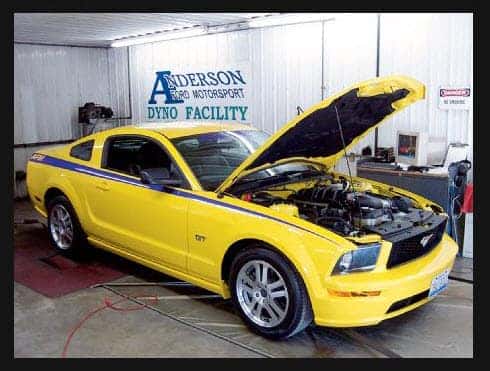 The Anderson commitment to SVT and Motorsport: We have one of the largest performance parts centers in the Midwest. From performance exhaust to superchargers, we can handle all your needs. We are the only Ford dealership in the Midwest equipped with an in house, state of the art, fully computerized Dyno Jet Dyno. We are "Performance Enthusiasts". With over 20 Years in Racing so we spend many hours studying and learning the SVT products. This helps to answer your questions on the product. We are one of the "Largest Motorsport Dealers in the USA" In fact we are #1 in Illinois. Our Motorsport Parts Performance Store is located right here in the dealership and we have it all, everything from T-shirts to Vortech blowers. Our SVT products are very carefully prepped and detailed. We work very hard to keep the mileage low. The only person who drives our SVT products is the certified technician to prep it and the new owner. NO Salespeople or Employees, absolutely NO joy riding. We treat all of our performance cars with SUPER CARE because that is the way we believe it should be!! We do not install front license plate brackets on the vehicle until the customer says so. We do this for those customers who show the vehicle. All the stickers and tags that come from the factory are saved for the customer on our cars.
Anderson Influence on the SVT:
• 1995 to the present, Anderson ford Mercury is on the SVT Dealer advisory group. SVT chooses only 5 dealers out of the 593 SVT dealerships nationwide to review products for the future. AFM has been part of this advisory team since its onset in 1995. The other dealers are from Ann Arbor, MI; Los Gatos, CA; Dickinson, TX; and Jonesboro, GA.
• 1996 Anderson Ford Mercury was highlighted at the SVT Dealers Meeting with a feature film on the dealership success.
• 1996 Anderson Ford mercury was instrumental in getting the SVT Evidence manual produced as a result of dealer input.
• 1997 Anderson Ford Mercury Fordstar. Anderson ford Mercury was the first dealership to be featured on Fordstar, Ford's Education and Training Network.